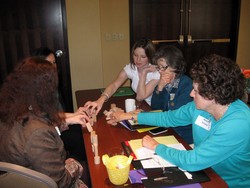 Autism Training Conference Gives Autism Education an Extreme Makeover
Autism Conference for teachers and parents gives traditional philosophy of handling children with Autism and Autism Spectrum Disorders in the education setting an Extreme Makeover.
Grand Rapids, MI (PRWEB) June 23, 2010 — Autism was added as a special education exceptionality in 1991 and is now the sixth most commonly classified disability in the United States. While it is evident that more children are getting special education services for autism than ever before, traditional treatment for autism has not changed in the past 30 years.
Teachers and other educators in the school system often seek solutions to the challenges they face daily with children in the Autism Spectrum. The team of clinicians and educators at Horizons Developmental Remediation Center created the Extreme Makeover Autism Education Conference in response to this need for answers. The autism training conference outlines that what needs to change for improved communication is not just the child, but how teachers and parents respond to and guide him or her through experiences.
Nicole Beurkens, founder and director of the Horizons Developmental Remediation Center, developed the conference to share the research-based discoveries she has made since experiencing frustration as a classroom teacher. "I was tired of other people telling me how wonderful it was that my students were talking, behaving in the cafeteria, and getting A's on their spelling tests. What I longed for were students who could think, communicate, flexibly adapt, and have true friendships."
The 2010 Extreme Makeover Autism Conference will be held in Grand Rapids, Michigan on August 4-6, 2010 at the Hilton Grand Rapids Airport Hotel. This is a hands-on CEU applicable training that offers to save education professionals time, energy and money by addressing how to approach each day with their students, simplifying the writing of IEPs, involving parents in the course of action, reducing ineffective use of resources, and most importantly, minimizing frustrations and feelings of incompetence when it comes to working with these students.
While the workshop is geared toward serving students in educational settings, parents of children with autism are also welcome to attend. Professionals who have attended this workshop previously indicated that they benefited greatly from the perspective of the parents in attendance, and parents commented about the benefits of insights of the professionals.
Parent and teacher Donna Goyette said this about the Extreme Makeover Autism Conference, "I've been living with autism for 15 years and thought I was doing everything I could possibly be doing right – until I attended your seminar. The concrete examples you gave for every message you were trying to convey to us were awesome, including the videos so we could see it working in action. This information needs to be shouted from the mountaintops, and I would recommend this seminar to parents and educators."
To register for the Autism Conference, visit www.horizonsdrc.com or call (616) 698-0306. Group and early-bird discounts available.
About Horizons
The Horizons Developmental Remediation Center in greater Grand Rapids, Michigan provides family-focused treatment for developmental disabilities, including autism, Asperger's, communication issues, speech and language problems, feeding concerns, sensory-motor struggles, behavior problems, and learning difficulties. Using the RDI® Program, Horizons treats the core problems that impact functioning and involves parents in the treatment process. Through the use of web-based programs, Internet and phone conferencing, video reviews, and other communication formats, the treatment program is available to families wherever they are located in the world. For more information, visit www.horizonsdrc.com or call (616) 698-0306.