I don't know about you, but I deal with a lot of stress.  One way I relieve stress is by taking some mommy time.  It's not always possible for me to get away from the kids and the house.  Sometimes I have to take mommy time at home.  A long hot bath with some of my favorite beauty and body products can be very relaxing.  Of course, my husband has to be home to keep an eye on the kids while I am soaking in the tub.
I like to turn the lights off and light scented candles in the bathroom.  I think it makes it easier to relax if the candles are the only lighting in the room.  Of course, I listen to my favorite music.  My favorite scent for candles is vanilla, but my husband hates the smell of vanilla.  I just tell him to avoid the bathroom when I come out.  He can use the other one.
Raising a child with autism can be difficult.  I've learned to roll with the punches, most of the time.  I tend to hold things in until I break, which isn't good.  I need to make a point of having more mommy time.  It doesn't do my kids any good to have me break down.  What do you do to relieve stress?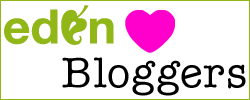 Disclosure:  This is a sponsored post by EdenFantasys.  I received a gift code to use on their site in exchange for linking to them and having their banner.